A Personal Story: My London Fall, the ankle injury
I don't share a lot on this blog, but when I do, it's usually not so personal. However, I felt the need to write this story down for my personal memories, but also to share with my friends, family, & clients that have been worried about me or noticed I've been MIA. I haven't been myself lately, and I think a lot has had to do with the pain I have been fighting ever since getting back from Europe. It's also another big reason on why I haven't been able to blog about my trip! I promise I will soon. For now, I share this with you.
I hope the force was with me yesterday. ☺️ I had outpatient surgery around my ankle yesterday morning. It's stems from an injury when I fell in London that is still haunting me. I'm doing well, resting at home, binge watching Netflix, and praying this is the last stretch for a full recovery. If you're interested in the full story, continue reading.
The story starts in London, October 19th, 2016. We had just had tea at the cutest little shop and were on our way to Piccadilly Circus, but we never made it. Just a few steps away from the bakery, on a cobblestone street, I tripped over my own feet. I've always been a clumsy mess, so falling is a norm for me and I usually have the longest falls ever, those that just keep going and going. The ones that make you laugh because you just can't help yourself. Well, on this day, I had my camera in my hand and my mind was to keep my camera and new lens safe. My legs however, didn't do so great. I heard a roaring laugh from 2 old ugly ladies passing that echoed between the buildings, and like I said, I'm used to people laughing at me when I fall. So I tried to brush it off, but as I was getting up I could feel a sharp pain running through my leg. Josh was doing his best to ensure I was ok, but I was trying to be brave. We had much to see, and we had missed almost a whole day with travel because of a train delay, I didn't want this to hold me back. Friends, it was hard, very hard to walk. I was immediately limping. We decided to walk back towards our apartment and took a long road back to see a few landmarks from the outside. We made it to the apartment and took off my shoes, only to see my ankle expand significantly. The next day, we had lunch plans with a friend who lives there and I had to stay in bed until lunch time, where we ended up taking a cab to meet. We slowly walked around after lunch, but we had to make several stops on a few benches to rest.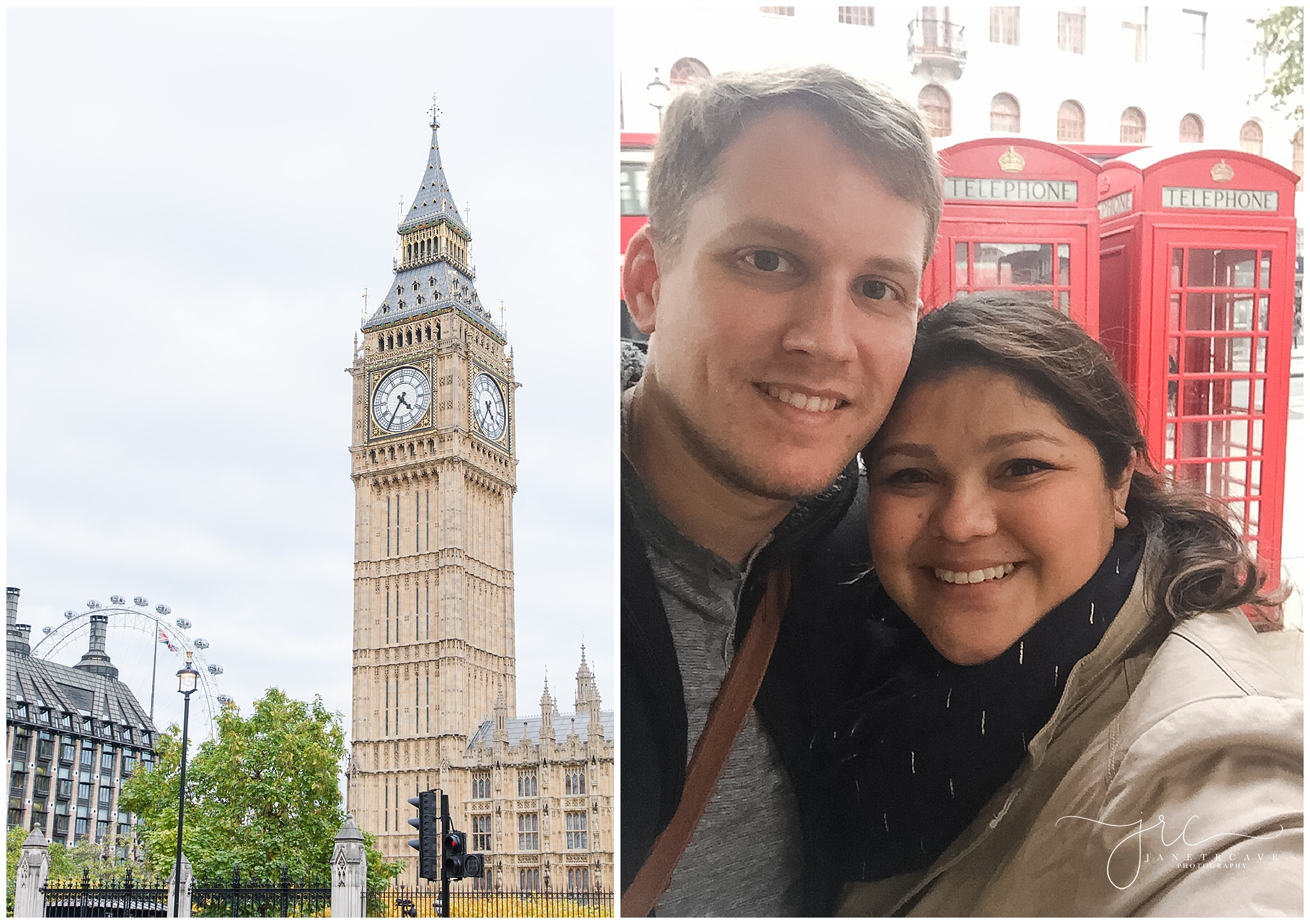 When we got back to the U.S., the swelling was going down and I thought it was just a bad sprain that needed time to heal. So I didn't go see a doctor because it was feeling a little better. I was also eager to get back at work since I had been luxuriously gone for almost 3 weeks, had recently gone through a massive re-org, and had a large project ahead of me with a new team. Unfortunately, soon enough my body said I needed to see a doctor. So off I went to visit a doctor at a foot and ankle place.
The doctor I saw told me I had a high ankle sprain, and torn ligaments despite the MRI tech stating it was thinly stretched, and that I had developed 2 fractures when I walked on it for 2.5 weeks before seeking help. Oops! So I went on with her treatment that had me in a boot and rolling around in a scooter during a very busy & stressful season at work, no pain meds, just waiting for everything to get back into place. I started physical therapy when I was still in pain, but was feeling a little better than before and well, she's the doctor. I still had slight pain after my last physical therapy session in early January, but was told it would be like that forever. I could expect to have good days and bad days. So I lived with it. She told me if I experienced pain to come back to see here, and most likely I would need surgery to have a part of my bone shaved off because when it was healing, it didn't go back in place 100%, and that's the only thing that could be done. I was scared when she told me that, and decided I could live with the pain and would get a second opinion before doing any surgery. Plus, her bedside manner of seeing me for a few short minutes, not really addressing my questions, or having my questions be answered by her staff or student shadow didn't make me feel warm and fuzzy. Did I mention I waited in the lobby for over an hour and a half on my first 3 visits? As a person who doesn't like change or like to complain, I tired to be patient, and was.
Months go by, and after awhile I realized I was having more bad, than good days. So I decided I would get a that second opinion. This time from an orthopedic surgeon. I asked for my paperwork to be transferred over from my original doctor, and they sent all 19 pages. The nurse who walked me back to take down my information wanted to backstory. As she scrolled through all 19 pages from the original doctor, there was never anything written about having a fracture, let alone 2! There was information stating they had taken x-rays, but no information on having any fractures. So they had me take some x-rays while I was there and soon I saw my doctor. He was a able to read my MRI from November and did agree I had a high ankle sprain with stretched ligaments, but not torn. The real surprise came when he told me my current x-rays showed absolutely no signs of any fractures, ever. At that point, I was just mad. Mad that perhaps my last doctor was either clueless or just got me mixed up with someone else, but more importantly what if all the time I wasted on my "treatment" was the wrong treatment overall, and now I have to possibly go through another round of recovery?!?!?! Anyway, my doctor told me the reason I was having pain in the specific areas I was pointing was due to excess scar tissue growth from my healing and that it could easily be cleaned up with an outpatient procedure. As for the pain behind my ankle joint, it could be scar tissue clean up or a torn ligament, but he would be able to explore more if I decided to opt for the surgery. I asked if there was other methods, such as deep massages, or exercise I could do or avoid to help, but he shook his head no. He probably thought I was nuts with all my questions, but he was kind, took his time and answered all my questions. He gave me reading material on what I had and what I could expect if I decided to proceed with surgery. However, he never pressured me or told me I had to, just that it was my decision. I left there knowing I had options, but decided I would try and see if I could just live with the pain. So I started to pay attention to my body, how I reacted to certain situations, how I was walking, how I would compensate by shifting, even while sitting. It was very apparent when I attended church with my friends and found myself constantly shifting in my seat. I decided after that, I needed to move forward with the surgery if I wanted relief.
We scheduled the earliest date possible and thankfully, I have a company and team who sympathized with me as they all knew how much I had suffered, and they all helped me organize my work to take off. I am so thankful to be surrounded by such a great team who is so supportive. May the 4th, I went in for surgery at 6am, was in the OR at around 8:30am, and on my way home by noon. The doctor confirmed with Josh the scar tissue clean up at the top was completed, and upon checking my tendon, he found it was vertically torn and repaired it while he was there along with a little more scar tissue clean up. So it was basically the worst case scenario as per our original visit. I'll have to be off of it for 3 weeks, as opposed to 1 week, and heal slowly with caution. I may be in pain and resting isn't something I am really any good at, but I trust my new doctor, and pray I'm on the right path for recovery.
In the end, I know this is all in God's hands and I will listen to him when he speaks to me, for I am so thankful for him and his comfort. Below are photos from yesterday and today. I've been love by so many whom have sent well wishes, texts, prayers, food, flowers, and chocolates. My lovely husband is amazing, and I am so thankful for him and all he does for me. Without him, I would be miserable. I love you hunnie!